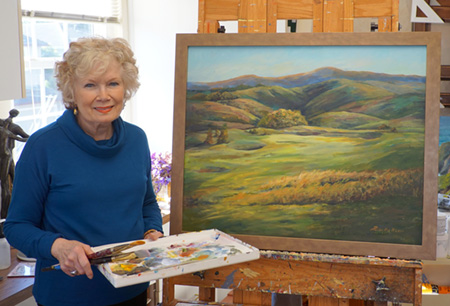 I have loved and studied art since I took my first art class in junior high school. I first developed a strong background in drawing and then incorporated those skills into my acrylic, watercolor, and oil paintings. I have been fortunate to study with many nationally and internationally acclaimed artists and teachers. I studied watercolor painting at American River College with Gary Pruner, and have also studied with Marilyn Symandle, Charles Reid, Frank Webb, Roberta Clark, Alex Powers and internationally acclaimed artist, Robert E. Wood.
In the past 5 years, I rekindled my passion for oil and acrylic painting and studied with the renowned Ramon Kelly, Bob Gerbracht, Jim Kosvanec, Camille Przewodek, and Janette LaGrue.
I have enjoyed painting a wide variety of subjects which have included portraits of people and animals, landscapes, murals, and still-lifes. My work has been exhibited in art galleries in the San Francisco Bay Area as well as paintings and mural work for numerous clients including the Gallo Winery corporate offices, Teichert Construction Company, Ritz-Carlton of Half Moon Bay, Stanford Medical Clinics, and the Arden Hills Country Club of Sacramento.
I have lived in California for almost three decades and for many years was represented by the Garden Gallery in Half Moon Bay. I continue to do commission work, teach private art classes and workshops, and work with interior designers.